DATA CENTER
Data Center DESCRIPTION
Physician Compensation: 2015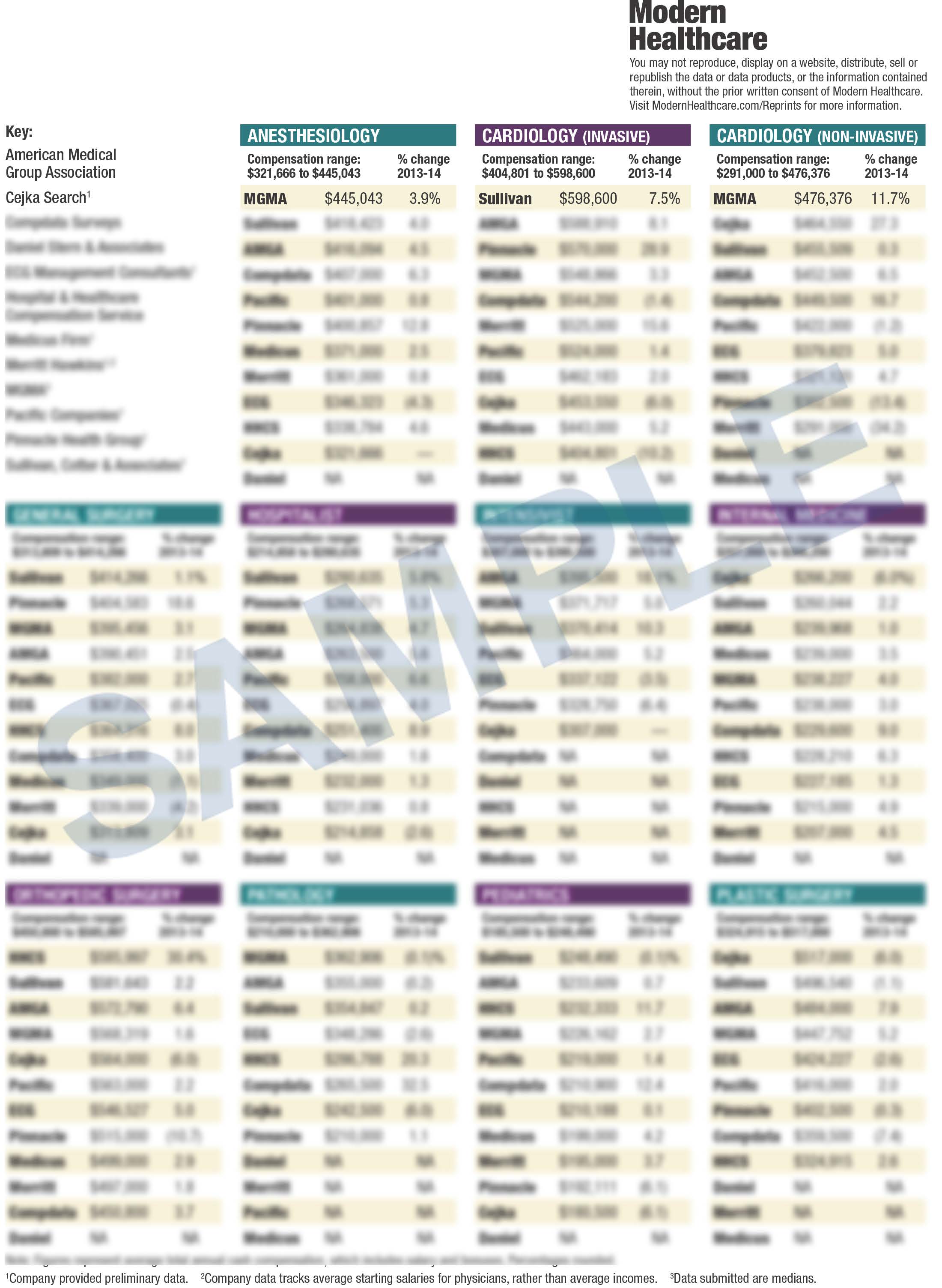 A Special Feature on the nation's average physician compensation in a variety of specialties from 12 companies. Source: Modern Healthcare's 22nd annual Physician Compensation Survey. Published July 20, 2015, p. 14.
Product
Records
Price
Cart
PHYSICIAN COMPENSATION: 2015
PDF file download.
23
$199.00
Add to
my cart
This three-page package includes pay ranges of 23 specialties from 12 companies, as well as profiles of all participating companies. The following data points are listed with each specialty:

Participating company name
Average compensation for that specialty from 2014
Percentage change between 2014 and 2013 data

The following specialties are included:


Anesthesiology
Cardiology (invasive)
Cardiology (noninvasive)
Dermatology
Emergency medicine
Family practice
Gastroenterology
General surgery
Hospitalist
Intensivist
Internal medicine
Neonatology
Neurology
Obstetrics/Gynecology
Oncology (including hematology)
Orthopedic surgery
Pathology
Pediatrics
Plastic surgery
Psychiatry
Radiation oncology
Radiology
Urology

View an alphabetical listing of all participating companies in our Physician Compensation Survey.

This Modern Healthcare Data Center product is free to Premium Web subscribers or can be purchased for $199. To become a Premium Web subscriber, visit our subscription page at modernhealthcare.com/subscriptions.

Return to products