DATA CENTER
Data Center DESCRIPTION
Truven Health Analytics 2015 100 Top Hospitals' Health Systems analysis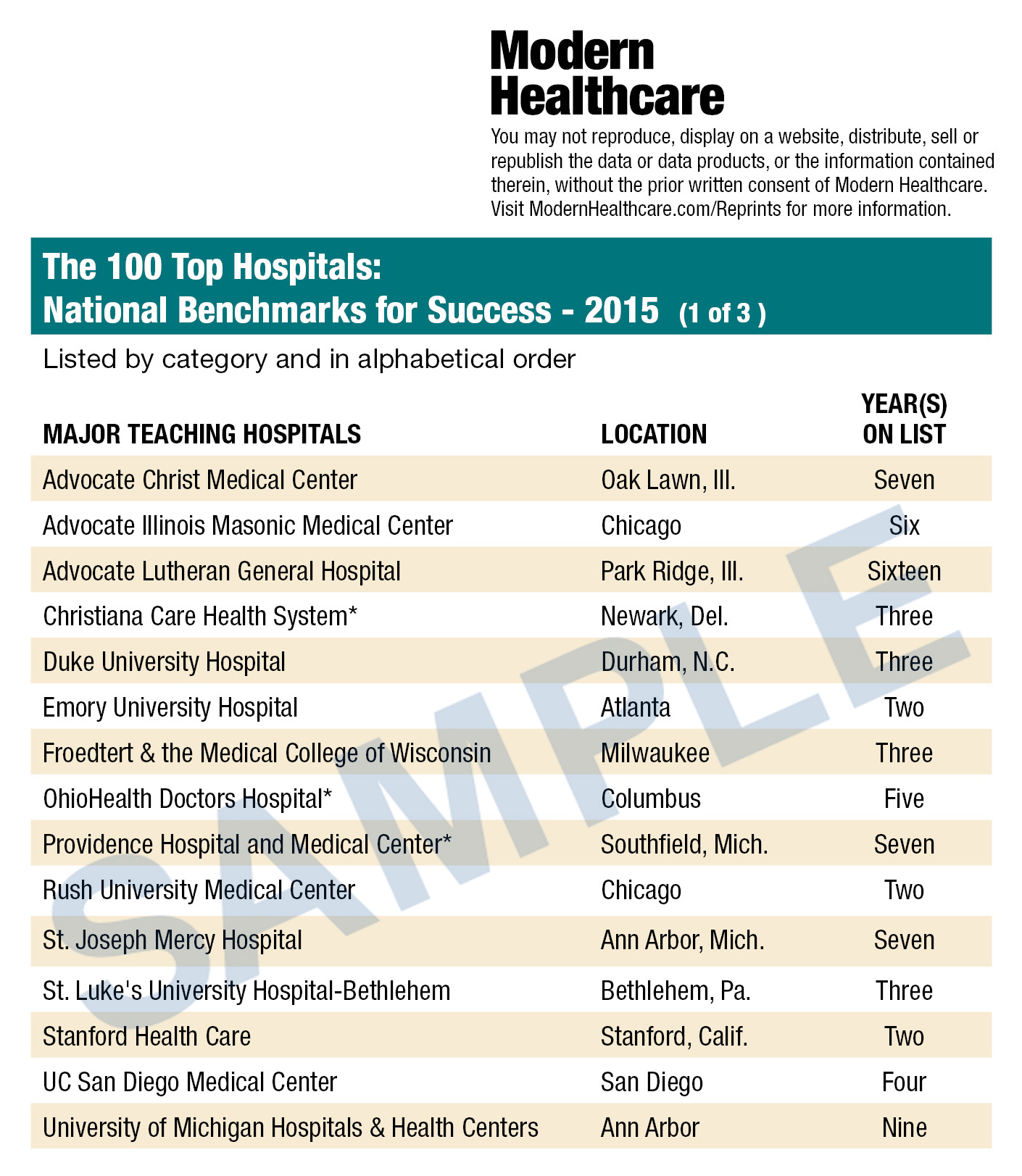 The 2015 Top Health Systems is an annual, quantitative study from the Truven Health Analytics 100 Top Hospitals program. The 100 Top Hospitals are identified along with the 15 health systems setting the highest benchmarks on clinical quality, efficiency and patient satisfaction. Published June 12, 2015.
Product
Records
Price
Cart
TRUVEN HEALTH ANALYTICS 2015 100 TOP HOSPITALS' HEALTH SYSTEMS ANALYSIS
PDF file download.
5
$199.00
Add to
my cart
This five-page, web-exclusive chart set includes four performance comparison charts of the 15 top health systems in aggregate. The top 15 health systems are listed by category in alphabetical order, and are grouped by total operating expenses.Also included are the Truven Health 100 Top Hospitals, 2015, which are listed in five categories: two groups of teaching hospitals and three groups of community hospitals based on bed count. Source: Truven Health. The nine charts are performance comparisons on:


National health systems
Large health systems
Medium health systems
Small health systems
Major teaching hospitals
Teaching hospitals
Large community hospitals
Medium community hospitals
Small community hospitals

This Modern Healthcare Data Center product is available for $199, or free with a Premium Web subscription. To become a Premium Web subscriber, visit our subscription page at modernhealthcare.com/subscriptions.

Return to products