October 20, 2021 10:40 AM
In Western Massachusetts, a clinic by and for transgender people seeks to revolutionize healthcare
Kate Sosin, The 19th News
Lizette Trujillo's son, Daniel, says he can't remember his first doctor. Trujillo wonders if pain buried the memory for him — because she remembers.
She remembers when a quick appointment for an ear infection or back-to-school checkup doubled as a dance around Daniel's pronouns, lest she confuse the doctors about her transgender son, or worse, risk being reported for child abuse for affirming him. She had heard horror stories and tried to avoid outing him.
"It was stressful to go to the doctor," she recalled. "The trauma of being misgendered all the time, not getting to be your authentic self. He was very young; those memories tend to be a little bit fuzzier."
So when Trujillo and Daniel met Dr. Andrew Cronyn, a trans-affirming pediatrician based in their home state of Arizona, their world changed.
"I think Daniel just got to go to the doctor and be himself, and was affirmed and respected," Trujillo said. "A lot of that stress that I felt really melted away."
"It was just easier because he had deals with other trans patients in the past, and was just like, 'Oh, I know that, I can help you with that,' Daniel, 14, said
Cronyn is no longer Daniel's physician. At 54, after six years in practice, he sold his home and left his 250-patient practice in Tucson for a medical startup: Transhealth Northampton.
There, from a three-story brick building on a leafy street in Northampton, Massachusetts, a team of nearly all transgender, nonbinary and queer clinicians is setting a lot of firsts. Transhealth is the first rural transgender health clinic in the nation. It's also one of the first healthcare organizations to be led entirely by transgender people to focus exclusively on transgender care.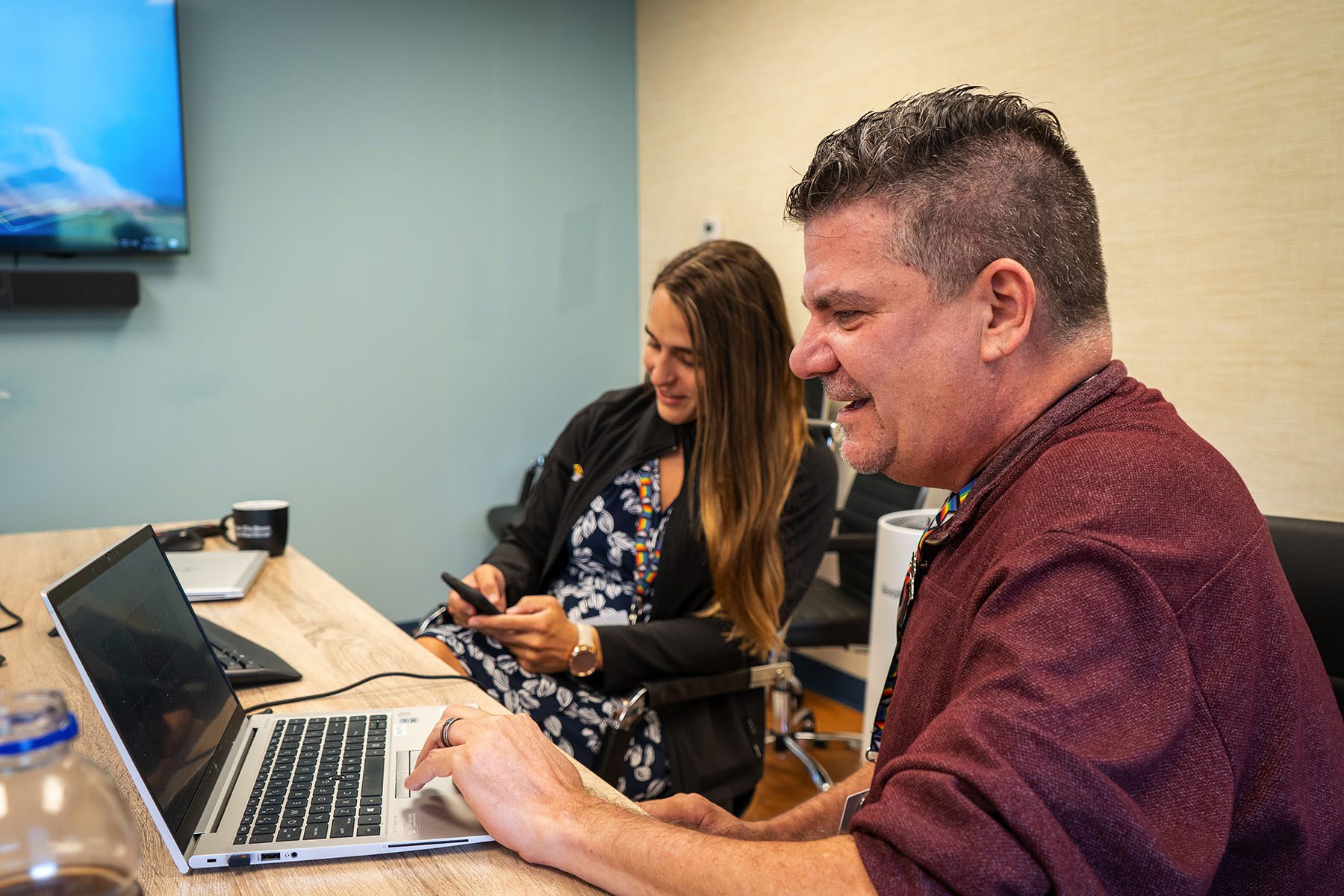 The 2015 U.S. Transgender Survey by the National Center for Transgender Equality reported that just 40 percent of transgender people were out to all of their healthcare providers. Many providers have also historically struggled to provide truly comprehensive transgender care: Patients report being misgendered and facing situations where their providers may embrace who they are — but don't understand their unique medical needs. In many circles, transgender people have opted to get information and advice on hormones, surgery expectations, aftercare and dysphoria from YouTube, Instagram and TikTok, because providers are not versed in their medical needs.
Transgender healthcare grows as insurance coverage expands
"The dream is to create that space where people can be authentic and co-creative and generative," said Dallas Ducar, a trans woman who left her position as the clinical lead for mental health services at the Massachusetts General Hospital Transgender Health Program to start Transhealth.
Since opening its doors in May, Transhealth Northampton has served more than 330 patients throughout New England. The team is focused on reaching patients in the most remote stretches of New England, where trans-affirming care wasn't previously offered. Transhealth offers a full spectrum of primary and mental healthcare — checkups, surgery consults, counseling, psychiatry — and even a community center with workshops.
The space is the brainchild of Perry Cohen, founder of the queer wilderness organization Venture Out and a longtime LGBTQ+ philanthropist. Cohen, a trans man, grew frustrated as he watched his friends traverse Massachusetts hunting for trans-affirming care for their kids. "The sense I got was there was a ton of fear of these providers doing the wrong thing for these kids," Cohen said. "What they thought was the best option was to refer them out."
For many, that meant hours-long excursions to Boston and months of waiting lists to see one of a handful of doctors trained in treating transgender patients.
Cohen, a New Hampshire native, says that trans healthcare in the area has been sorely lacking for decades. So Cohen, whose family owns the largest grocery distributor in the country, created Transhealth. He has previously backed projects such as trans competency training at Harvard Medical School.
Many thought his latest project in Northampton — Transhealth — had long existed. Northampton prides itself as a beacon of queer life and progressism. The town of 30,000 is home to Smith College, a magnet for queer thinkers and academics. A sign at the edge of town welcomes visitors: "Northampton: Where the coffee is strong and so are the women."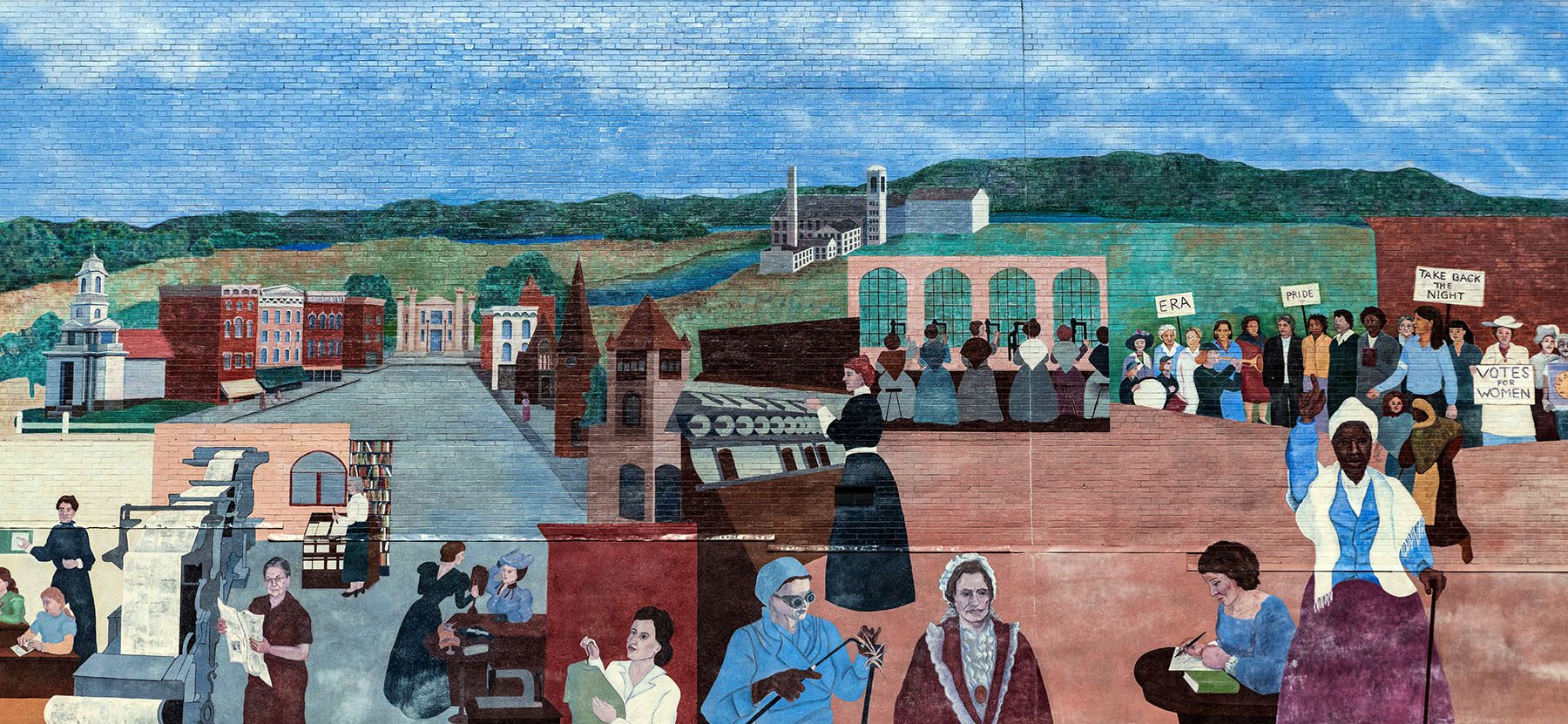 Northampton's population was 90 percent White in the last census, but its storefronts and churches are decorated with "Black Lives Matter" banners. Rainbow flags adorn nearly every business year-round. That Northampton did not have a transgender health clinic prior to 2021 is perhaps more suprising than the fact that it does now.
But doctors like Cronyn are hard to come by. They typically work from LGBTQ+ clinics in major cities. According to the Centers for Disease Control and Prevention, about half of states have LGBTQ+ affirming health centers, but most do not specialize in LGBTQ+ health, and transgender care in particular can be hard to access.
Transhealth Northampton is trying to change that via in-person and telehealth appointments for patients in rural Vermont, New Hampshire, Connecticut and other surrounding states. The clinic has been taking advantage of relaxed rules that allow healthcare providers to treat out-of-state people via telehealth during the pandemic, but Ducar, the organization's CEO, says they are aiming to certify providers throughout New England so that they can provide wide-reaching care beyond the pandemic.
The need in Massachusetts alone is clear. Three years ago, Cohen commissioned a study that revealed the state has roughly 30,000 gender-diverse residents. The report concluded that 10,000 of them are residents of Western Massachusetts.
Andrew Sackett-Taylor, a psychiatric nurse practitioner at Transhealth, said accessing trans-affirming mental healthcare can be particularly challenging, with patients sitting on waiting lists for months before being seen.
"Every therapist is full," Sackett-Taylor said. "There are no openings right now. If you're good, you're clogged. You don't have any openings to take."
The same is true of primary care physicians who specialize in gender-affirming care. Patients are often forced to schedule months in advance for pressing medical needs because competent doctors are so rare.
Transhealth wants to shorten those wait times. The organization is committed to getting its patients in within a week.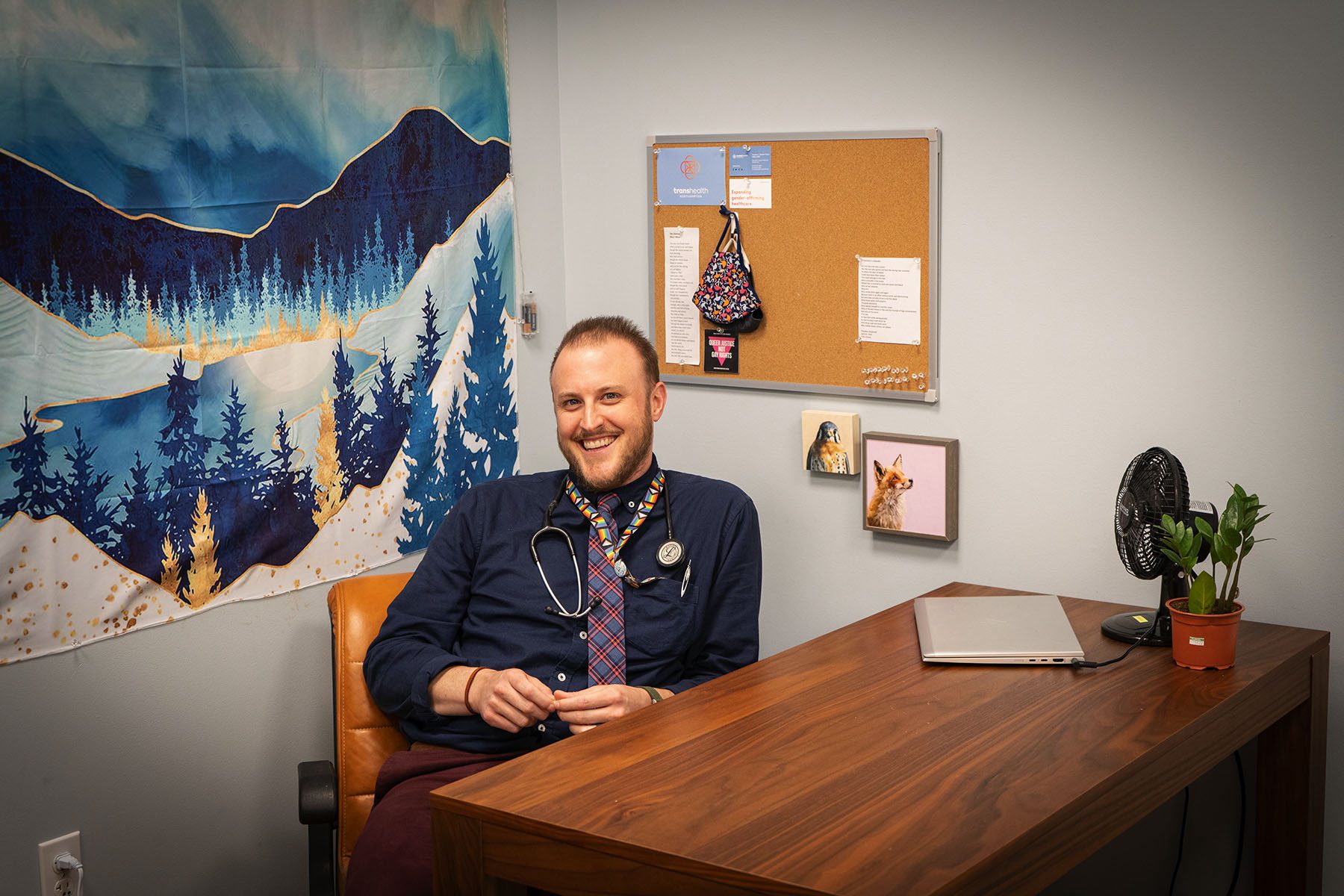 "You know people will say 'three months is the industry norm,' and for us it's like, 'why not change the industry?'" Ducar said.
Ducar, a psychiatric nurse practitioner, wants to reinvent primary care. A native of Phoenix, Ducar has established herself as one of the leading voices on transgender healthcare in just a few years. The 29-year-old transitioned less than six years ago.
Ducar's vision of transgender health is a pull between radical and deeply pragmatic practice. She wants transgender people to have control over their care — a basic ask, but one that is difficult to execute in a world where trans lives have historically been pathologized in medicine.
Medical records are entered in view of patients, who get to approve the information that goes into the system, including the name and pronouns that might get sent to outside providers.
"Some of our providers really wanted to emphasize co-documentation," Ducar explained, "so putting a computer here, showing you what's being documented because we really believe that the medical record is your property."
The clinic puts a heavy emphasis on comfort as part of healthcare, on removing the indignities that might prevent patients from returning. An oversized medical chair sits in the corner of an exam room. It's an office chair in every way — black metal armrests, blue vinyl seat cushions. It's not particularly attractive or comfortable, but it's wider than the chairs you're used to. It's designed to fit any type of person. A person of size. A person with a disability. Even a parent and child together, if they want.
"We had someone come in from a local practice and sit in one of these chairs and he said, 'this is the first time I have not felt pathologized by a chair,'" Ducar recalled.
Ducar's dream for healthcare is full of these moments. The moments seem simple, but they could change everything for patients, many of whom have avoided doctors for years. They are a series of invitations and assurances that the care they deserve is not dependent on who they are.
Arin McKona, an ambulatory nurse, said he has seen a lot of patients at Transhealth who have gone 10 or even 15 years without primary care because past physicians misgendered them or didn't know how to care for their bodies.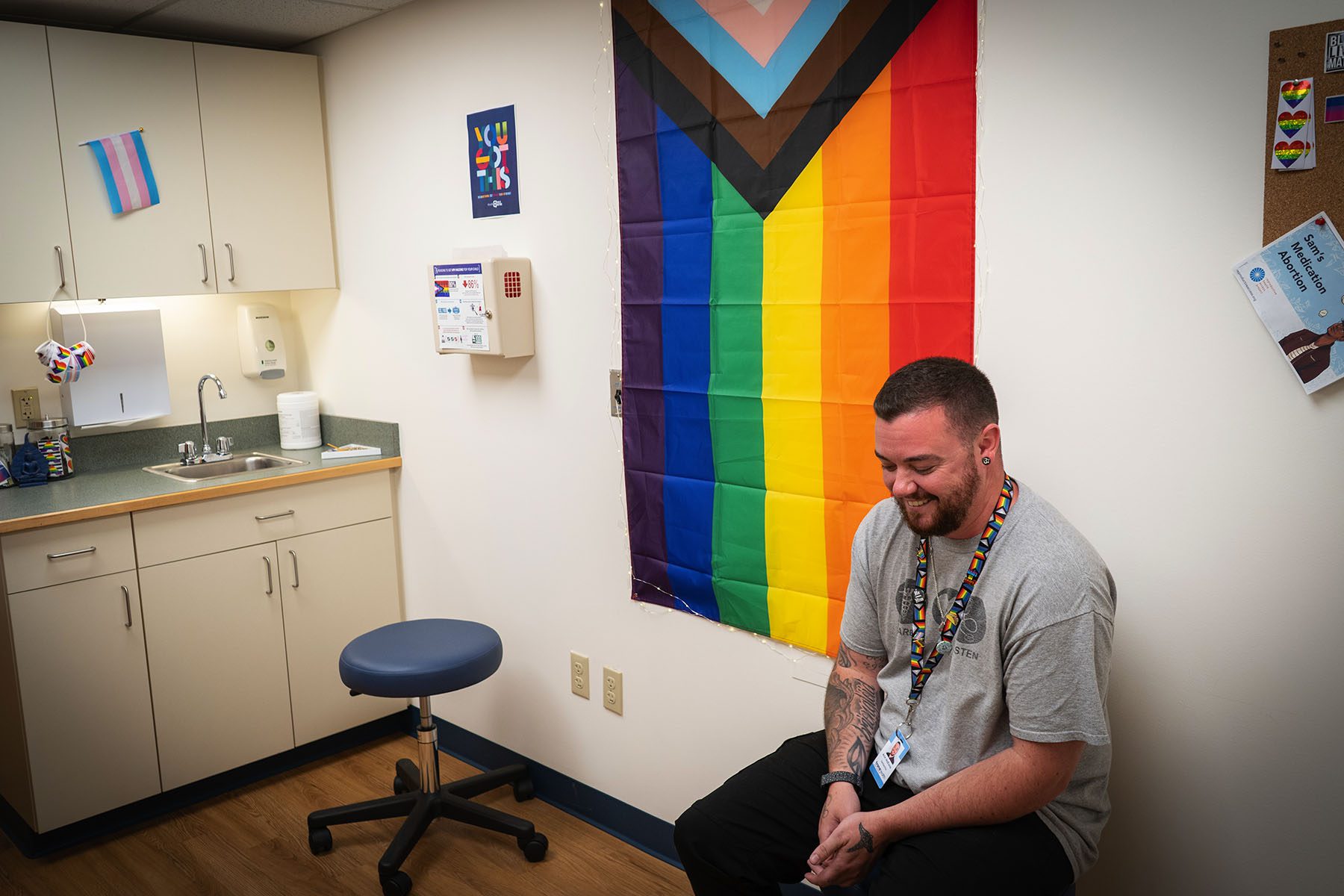 "It's shocking," McKona said. "The list of problems that they have are serious, and they just brush it off. All the providers and myself are sitting there and they're like, 'I've dealt with this for 10 years,' like a chronic illness."
McKona welcomes families for intake in a room draped with a progressive pride flag, the full spectrum of the rainbow, Black and brown to reflect a commitment to racial diversity and trans pride colors decorating the room. The clinic is a far cry from the yellowing community centers that many LGBTQ+ patients have known since the 1970s. The hallways are accented with mid-century style wallpaper and handsome benches. Black and white pine tree prints hang from the walls. Exam room walls are exposed brick, decorated against a dusky blue. Frosted glass doors slide open and closed.
And Transhealth is not just a doctor's office; its third-floor community room, overlooking the local pie shop and full of new furniture, will host storytimes for kids and makeup tutorials for teens.
Ducar has other dreams for the clinic. She wants Transhealth to establish its own institutional review board, a body of all transgender experts that would approve any medical research studies done about transgender communities. The organization hopes to upend the norm of cisgender researchers studying transgender health from their perspectives, giving trans experts new voice in studies that impact their lives.
Faced with the offer to partner with larger health organizations like Massachusetts General Hospital and Cooley Dickinson Hospital, Ducar and Cohen decided to keep the clinic independent, allowing them freedom to create new models of care.
The clinic comes at a time of fierce scrutiny over transgender life and health in the United States. The American Medical Association affirms transgender care as medically necessary, but more than 30 states have pushed anti-transgender bills this year alone that would block kids from getting gender-affirming care or playing on school sports teams. Advocates say the bills may have helped fuel the deadliest surge in anti-trans violence they have ever seen, with transgender murders hitting record numbers.
The clinic operates the way many abortion providers do. Transhealth Northampton doesn't post its address anywhere. Ducar asks reporters not to photograph the outside of the building from angles that reveal its location. The organization has contracted with a security company, and doors into the clinic remain locked, except to a reception window.
Still, nothing about the space inside is steely or sterile. Even in masks during the pandemic, it's easy to catch staff smiling throughout the halls.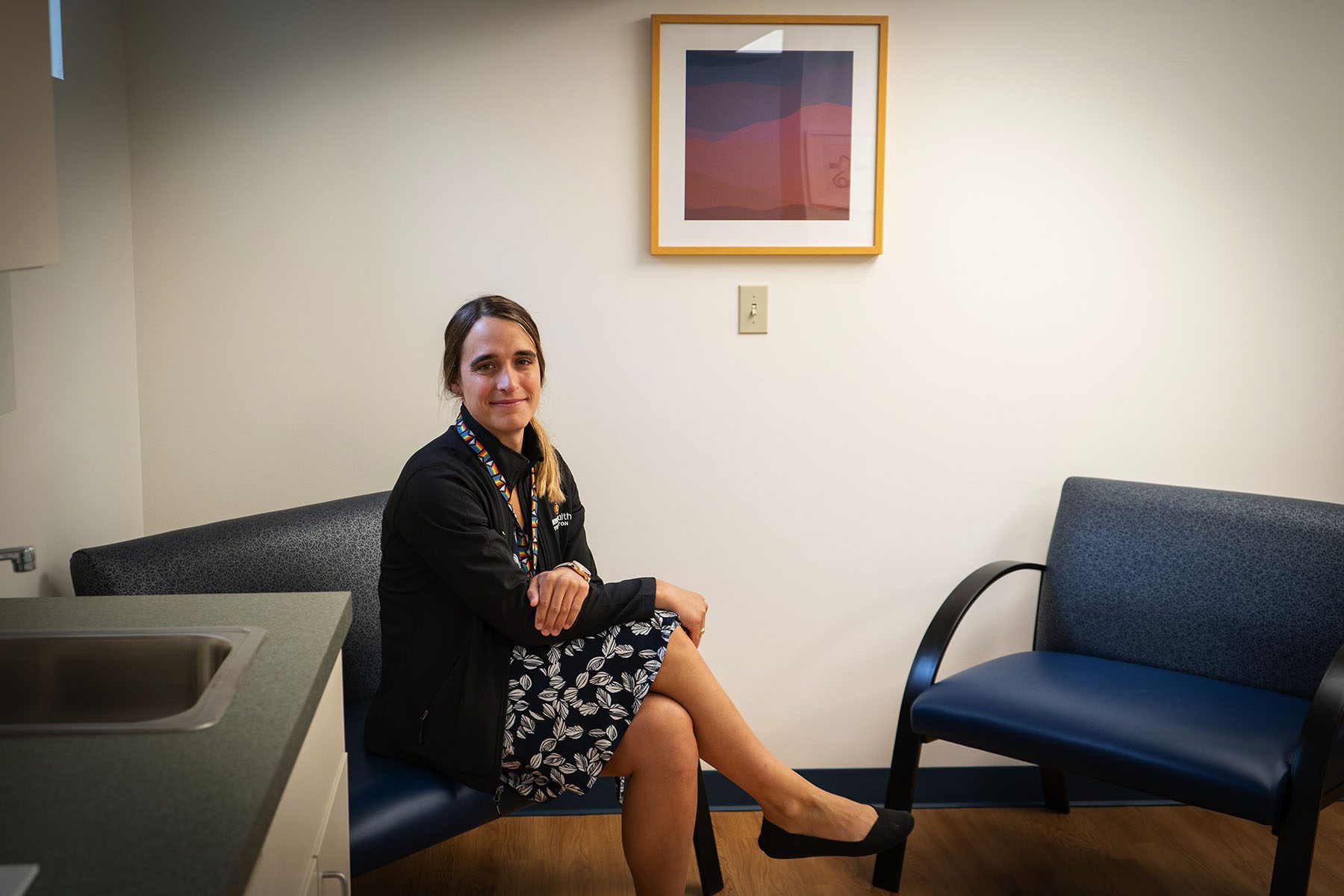 Among them is Cronyn.
"Dallas is someone who gives me hope right now," Cronyn said. "I want to be around these people."
Cronyn has watched anti-trans legislation pass at alarming speeds. He saw Arkansas pass the first ban on transgender-affirming care for children. At the same time, he was watching listservs of other doctors who treated trans kids.
"People were like, 'alright how do I get licensed in Arkansas?'" Cronyn said "'When can I fly down? What do I have to do?' That was their first reaction."
Ducar has been having similar thoughts. She wants to see Transhealth clinics throughout the nation. And she hopes that model of healthcare will resonate outside of the transgender community and offer all people new ideas about what they deserve from doctors and clinics.
"Who am I in this world that feels increasingly automated and feels like my privacy is always taken for granted?" Ducar asked. "To me it seems like there's some beauty in being able to bring back the humanistic side of things, to bring back some desire for interpersonal connection, community, and just knowing that you can actually be cared for."