For the nurses who have witnessed the darkest moments of the pandemic under harrowing work conditions, the rise in demand for travel nursing has come as a welcome opportunity.
Agencies that staff nurses around the country started paying as much as twice nurses' regular salaries to those willing to travel to areas with a staffing need. Thousands of nurses have jumped at the chance.
It made sense for people like Tammy Pender, a registered nurse in Florida who had racked up debt to care for her family.
Pender's father could no longer afford his house, so she took on a second mortgage and car payment to help him. Her sons, a 10-year-old and 11-year-old twins, were at home like most kids in virtual learning, and her husband left his job to help care for them. Pender, who was the higher wage earner, said the decision made sense at the time, but the debt caught up to them fast — and so did the burden of the frontlines of the pandemic.
Pender said nurses were having to take on multiple roles, working as phlebotomists and techs while managing huge patient workloads. And then there was the mental toll. Nurses were being called heroes early in the pandemic for fighting the virus, but many were feeling like their pay and the working conditions were not commensurate with the difficulty of the work.
"The amount of death that I have seen and the amount of patients I have watched breathe their last breath is something I don't ever want to experience again," said Pender, 45.
Travel nursing gave her the chance to do work she loved but for pay that she said made it more worthwhile. For the past 16 months, she's taken eight- to 13-week contracts as far as California and North Dakota. She's away from her kids often, but she's been earning about 50 percent more than she did as a staff nurse, money her family has used to cut down their debt and make some necessary renovations on her dad's home.
But, in a twist that has sent the majority-women nursing community into an uproar in recent weeks, the benefits of travel nursing could be in jeopardy, and nurses are raising questions about whether the profession in general needs to raise its wages.
In the last few months, several groups, including the American Hospital Association (AHA), the American Health Care Association/National Center for Assisted Living and 200 members of Congress, have called for an investigation into claims that agencies that place travel nurses around the country have been "price gouging" hospitals in need of staff.
The AHA has requested the Federal Trade Commission investigate the agencies, and late last month, a letter signed by a bipartisan group of legislators also asked the White House to investigate the claims.
Rep. Peter Welch, a Democrat from Vermont, and Morgan Griffith, a Republican from Virginia, wrote that they have received reports saying staffing agencies have inflated prices by "two, three or more times pre-pandemic rates" while taking 40 percent or more being charged to hospitals in profit. At least eight private-equity firms have bought at least seven staffing agencies since early 2021, according to a report in STAT News.
"We urge you to ensure that this issue gets the attention from the federal government it merits to protect patients in dire need of life-saving healthcare treatment and prevent conduct that is exacerbating the shortage of nurses and straining the healthcare system," they wrote.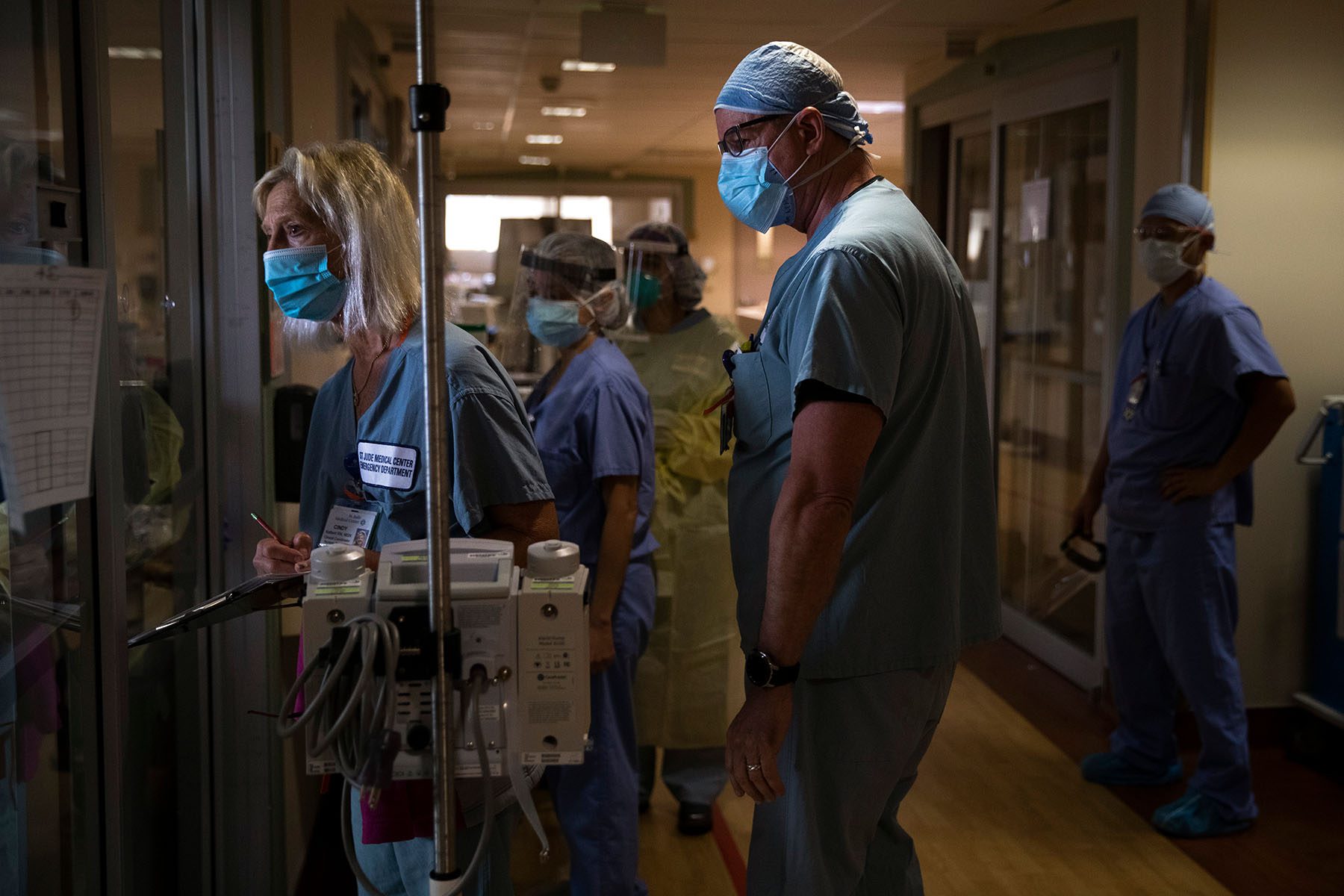 The White House did not comment on whether it was responding to the contents of the letter, and the Federal Trade Commission also declined to comment on whether an investigation was underway.
A spokesperson for the AHA said in a statement that the goal is to determine whether the price hikes instituted by travel nurse agencies are "anticompetitive activity" and "price collusion," which could violate consumer protection laws, result in higher healthcare costs for patients, and be a burden on taxpayers since the federal government has been stepping in to help cover staffing and other costs during the pandemic.
However, "it is important to note that the AHA has not advocated in any forum for a cap on travel nurse wages," said AHA spokesperson Colin Milligan. The association added that hospitals have tried to respond to staffing needs by offering referral and retention bonuses, as well as sign-on bonuses.
But many nurses are worried that these investigations could lead to caps on their pay.
In Pennsylvania, Republican state Rep. Timothy Bonner proposed a bill late last month that would cap how much agencies can charge hospitals at 150 percent of the average hourly rate for healthcare staff.
There's already some evidence that nurses ultimately feel the impacts of caps on agencies. In Minnesota, one of the two states that already caps what nurse staffing agencies can charge hospitals, pay increased for nurses in 2021 and 2022 but, for this year, is still capped at $62.36 an hour for regular pay and $107.25 in holiday pay for registered nurses. The median hourly wage for an RN in Minnesota was $38.24 in May 2020, the most recent month data is available from the Bureau of Labor Statistics.
The gulf in pay between staff nurses and travel nurses has also raised a bigger question: Could all nurses be paid more? And why aren't they?

"That's where nurses are starting to feel, 'Are we being undervalued?'" said Bianca K. Frogner, the director at the Center for Health Workforce Studies at the University of Washington School of Medicine. "It's become a bit more of an awakening where I think nurses may have felt undervalued before, but now it's becoming much more front and center as they're watching their peers come back" after earning higher wages doing the same work.
Almost 90 percent of registered nurses are women, and about 31 percent are Black, Latina or Asian, according to the Bureau of Labor Statistics. Women make up 75 percent of the healthcare workforce, but lower pay for nurses has helped drive a gender gap in the industry. Nationwide, the median pay for a registered nurse in 2020 was $75,330, for example, while surgeons, 72 percent of whom are men, earn a median wage of $251,650.
Meanwhile, CEO pay has boomed during the pandemic alongside healthcare costs. An Axios analysis of filings with the Securities and Exchange Commission found that chief executive pay at 178 healthcare companies was up 31 percent during the pandemic compared with 2019.

Not a Modern Healthcare subscriber? Sign up today.